Playstation® DualSense Wireless Controller
183 viewed per hour
3-4 Days
Free
Shipping!
90 Days
Return Policy.
Personal
Customer
Support.
Overview
Reviews
Warranty & Returns
Description
Limited Quantity – 1 item only per person
DualSense™ Wireless Controller
Discover a deeper gaming experience1 with the innovative new PS5™ controller.
Heighten Your Senses™
The DualSense wireless controller for PS5 offers immersive haptic feedback2, dynamic adaptive triggers2 and a built-in microphone, all integrated into an iconic design.
Bring gaming worlds to life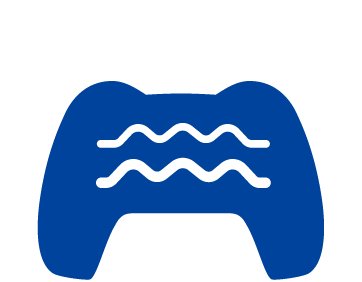 Haptic feedback2
Feel physically responsive feedback to your in-game actions with dual actuators which replace traditional rumble motors. In your hands, these dynamic vibrations can simulate the feeling of everything from environments to the recoil of different weapons.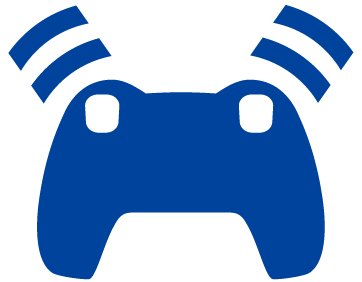 Adaptive triggers2
Experience varying levels of force and tension as you interact with your in-game gear and environments. From pulling back an increasingly tight bowstring to hitting the brakes on a speeding car, feel physically connected to your on-screen actions.
Find your voice, share your passion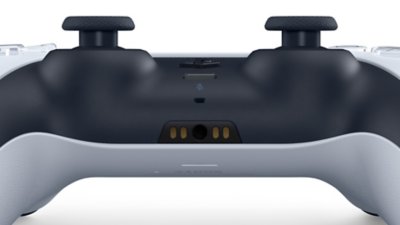 Built-in microphone and headset jack
Chat with friends online3 using the built-in microphone – or by connecting a headset to the 3.5mm jack. Easily switch off voice capture at a moment's notice with the dedicated mute button.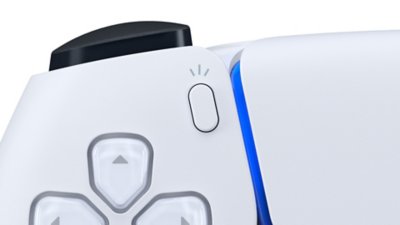 Create button
Capture and broadcast3 your most epic gaming moments with the create button. Building on the success of the pioneering SHARE button, "create" offers players more ways to produce gaming content and broadcast their adventures live to the world.
A gaming icon in your hands
Take control with an evolved, two-tone design that combines an iconic, intuitive layout with enhanced sticks and a reimagined light bar.
Familiar features
The DualSense wireless controller retains many DUALSHOCK®4 features, returning for a new generation of play.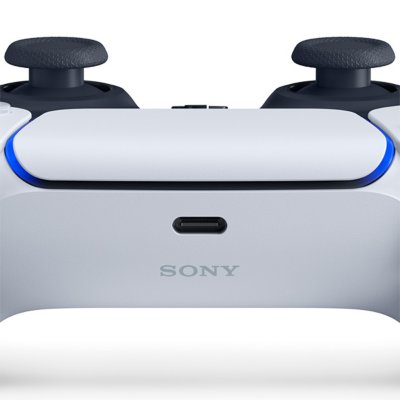 Built-in battery
Chat with friends online3Charge and play, now via USB Type-C®4.
Integrated speaker
Select games take on an extra dimension with higher-fidelity sound effects bursting from the controller.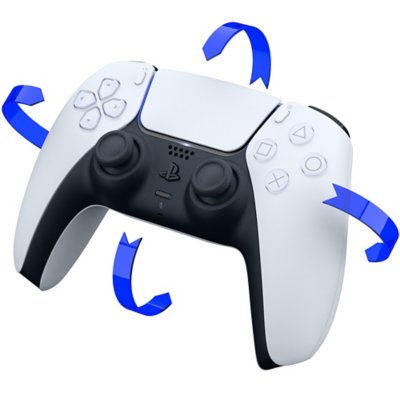 Motion sensor
Bring intuitive motion control to supported games with the built-in accelerometer and gyroscope.
Click. Charge. Play.
Stay in the game and be ready to face your friends with the DualSense charging station.
Dock up to two DualSense wireless controllers5 quickly and easily with the charging station's click-in design. Your controllers charge as quickly as when connected to your PS5 console – so you can free up USB ports without sacrificing performance.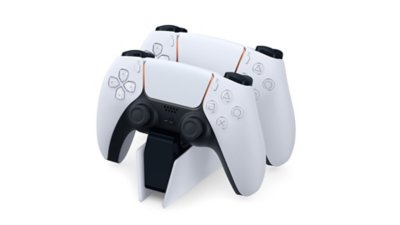 1 Compared to DUALSHOCK 4 wireless controller.
2 Available when feature is supported by game.
3 Internet and account for PlayStation™Network required.
4 Cable not included. To connect or charge the controller use the USB cable supplied with the PS5 console.
5 Controllers sold separately.
Always update your PS5 system software and the wireless controller device software to the latest version.
"PlayStation", "PlayStation Family Mark", "PS5 logo", "PS5", "DualSense" and "DUALSHOCK" are registered trademarks or trademarks of Sony Interactive Entertainment Inc. "SONY" is a registered trademark of Sony Corporation.
DualSense Wireless Controller Frequently Asked Questions
What is DualSense and how is it different from DualShock?
The DualSense Wireless Controller is the controller for PS5 including several next-generation features like haptic feedback and dynamic adaptive triggers.
What does the DualSense controller feel like?
Next-generation haptic feedback replaces the traditional "rumble" feel of previous controllers offering more immersive physical sensations. These sensations are quicker, more precise and much more tactile. The controller gives players the ability to reduce the effect or disable if they desire.
What are in-game examples of the haptic feedback used by the DualSense wireless controller?
The feeling in changes in surface textures playing as Astro in Astro's Playroom, sensing the direction of attacks in Marvel's Spider-Man: Miles Morales or striking metal against metal in Demon's Souls
What are in-game examples of the adaptive triggers used by the DualSense wireless controller?
The adaptive triggers, working through the L2 and R2 buttons, give the player the feeling of resistance as you swing through New York City in Marvel's Spider-Man: Miles Morales. In the future, this feature could be used to deliver the sensation of pulling a bow string or applying the brake pedal in your favorite racing game.
How do I charge my DualSense controller? How long does it take to recharge?
The DualSense wireless controller can be charged via the USB-C® port to the PS5 or the DualSense Charging Station (sold separately) which allows the charging of two controller at the same time. Typical recharging time when connected to a PS5 or the Dual Charging Station is estimated at approximately three hours.
Can I use DualSense wireless controller as more of a "wired" controller?
Yes, the controller has the ability to operate wirelessly via Bluetooth 5.1 or in a "wired" mode by connecting your controller to the PS5 with the USB cable.
Does the DualSense wireless controller include a built-in microphone?
Yes, the DualSense wireless controller has an integrated microphone array and built-in echo cancellation allowing players to have quick chats with friends without the need to setup a headset. Though if you are planning to talk for an extended period of time, you might want to have a headset nearby such as the PULSE 3D Wireless Headset.
Does the DualSense wireless controller have a headset jack and what headsets are compatible with it?
The DualSense controller has a headset jack enabling players to plug in a headset, earbuds or another compatible audio device similar to the PS4.
Will DualSense controller support any accessibility options?
Yes, options include players having the ability to reduce or disable the force of haptic feedback and adaptive triggers. Players have the capability to remap buttons on the controller. Finally, the DualSense wireless controller's microphone permits for voice dictation, allowing players to search for content with their voice.
How many DualSense controllers can be connected to PS5 at any one time?
Up to four DualSense wireless controllers can be connected to one PS5 at any given time. When playing with multiple players locally, the DualSense wireless controller's player indicator (located just under the touch pad) will inform you which player you are.
Can I use the DualSense wireless controller with my PC?
Remote Play on PC supports the DualSense wireless controller via a USB wired connection.
Will the controller be compatible with my PS4?
The DualSense wireless controller is not compatible with the PS4 console.
Warranty:
Warranty period (parts): 90 days
Warranty period (labor): 90 days
Return policies:
Return for refund within: 30 days
Return for replacement within: 30 days