Apple iPhone 7 32GB Black Unlocked Smartphone (2GB RAM)
$199.99
IOS OS 10 with 4.7-inch (diagonal) LED-backlit widescreen
A10 Fusion chip
With just a single press, 3D Touch lets you do more than ever before
1334-by-750-pixel resolution at 326 ppi
The 12-megapixel iSight camera captures sharp, detailed photos. It takes 4K video, up to four times the resolution of 1080p HD video
Overview
Reviews
Warranty & Returns
Description
iPhone 7 dramatically improves the most important aspects of the iPhone experience. It introduces advanced new camera systems. The best performance and battery life ever in an iPhone. Immersive stereo speakers. The brightest, most colorful iPhone display. Splash and water resistance. And it looks every bit as powerful as it is. This is iPhone 7.
Design
Makes a splash.
Takes a splash.
| | | |
| --- | --- | --- |
| New black and jet black finishes | Splash and water resistant | New Home button |
iPhone 7 reaches a new level of innovation and precision. The jet black finish is like nothing we've ever made. The enclosure is splash and water resistant. The Home button is completely reengineered. And with a new unibody design that's seamless to the touch, iPhone 7 feels as amazing as it looks.
Two sizes. Five finishes.
With iPhone 7 and iPhone 7 Plus, we're introducing a beautiful black with a matte finish and a deep, high-gloss jet black. Both the 4.7-inch and 5.5-inch models — constructed with incredibly strong 7000 Series aluminum — are also available in our signature silver, gold, and rose gold finishes.
The gold standard of black.
Crafted from bead-blasted aluminum, our new black model has a rich, deep matte finish. The high-gloss jet black finish was achieved through a new feat of design engineering — a remarkably precise, nine-step process of anodization and polishing. The end result is so purely and continuously black, you can't tell where the aluminum ends and the glass begins. The dark side, indeed.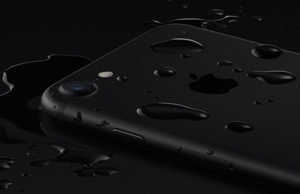 Built to be water resistant.
With its entire enclosure reengineered, iPhone 7 is the very first water-resistant iPhone.So now you're protected like never before against spills, splashes, and even dust.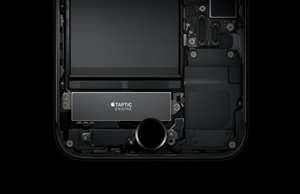 An all-new Home button.
The Home button on iPhone 7 is an advanced solid-state button designed to be durable, responsive, and pressure sensitive. Working in tandem with the new Taptic Engine, it gives you precise tactile feedback as you press. And it's even customizable. Welcome home.
Touch ID
Using a highly advanced fingerprint sensor that's as fast as ever, Touch ID makes unlocking your iPhone easy and secure.
Apple Pay
With iPhone, you can pay instantly and securely in stores, in apps, and on the web. And because your card details are never shared by Apple with merchants or stored on your device, using Apple Pay is the safer way to pay.
iPhone 7 Camera
An entirely new camera
enters the picture.
| | | | |
| --- | --- | --- | --- |
| camera | Optical image stabilization | FaceTime HD camera | Quad-LED True Tone flash |
iPhone is the most popular camera in the world. Now we've reengineered that beloved camera, adding optical image stabilization, an ƒ/1.8 aperture, and a six-element lens to make it even better for shooting photos and videos in low light. And with advanced new features like wide color capture, your photos and Live Photos will look even more vibrant.
Optical image stabilization
iPhone 7 comes with optical image stabilization to reduce blur associated with motion and handshake. A sensor helps the lens counteract even the tiniest movement, allowing for up to 3x longer exposure compared to iPhone 6s.
ƒ/1.8 aperture
A larger aperture allows up to 50 percent more light onto the camera sensor than iPhone 6s, further enhancing the camera's ability to take superb low-light photos. Teamed with the new six-element lens, the camera will deliver brighter, more detailed shots.
Quad-LED True Tone flash
Four smart LEDs flash 50 percent brighter than iPhone 6s. The flash adjusts according to the color temperature of the environment, resulting in sharper, more brightly lit photos.
Each photo is the original taken with iPhone 7 and iPhone 7 Plus — without filters, adjustments, or retouching. Imagine what you can do with the powerful editing tools built into your iPhone.
Now your movies are just like the movies.
Videos shot in darker settings with iPhone 7 will look remarkably better, enhanced by optical image stabilization and the all-new ƒ/1.8 aperture. And the 12MP camera captures high-resolution video up to 4K. So you can shoot epic movies of epic moments, even if they're happening in low light.
Optical image stabilization
With a longer exposure, optical image stabilization reduces motion blur in your footage. An ƒ/1.8 aperture helps you film even better low-light videos, too.
4K video
iPhone 7 lets you shoot in 4K resolution — with over 8 million pixels. And you can edit your video in iMovie, then share it instantly.
Slo-mo video
Make your favorite moments last even longer. iPhone 7 offers slo-mo support in 1080p and 720p HD.
Time-lapse video
Capture footage at dynamically selected intervals to create a time-lapse video that's quick and easy to share.
New 7MP front-facing camera. Love your selfie.
The FaceTime HD camera is not only higher resolution, but it also uses wide color capture. So now you can take sharper and more vibrant selfies. Worried about lighting? The Retina Flash matches the ambient light for a shot with natural-looking skin tones. Hello, gorgeous.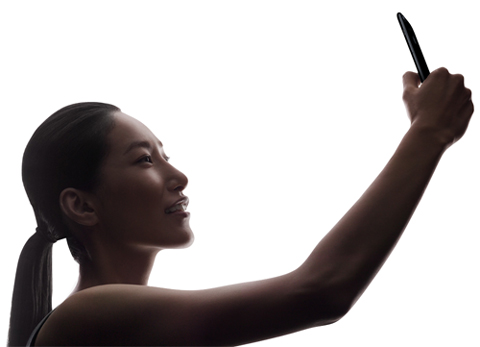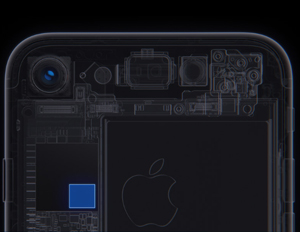 More brains behind the camera. Smarter ISP.
Why is the camera on iPhone 7 so advanced? It has an improved Apple-designed image signal processor built into the A10 Fusion chip. When you take a photo or video, the ISP powers over 100 billion operations and even uses machine learning to make your images look amazing. Other improvements include faster focus and improved local tone mapping and white balance.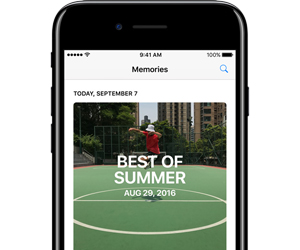 Photos for iOS. Bringing all your memories into focus.
You've never experienced your photos quite like this. The Photos app offers tools that let you find, share, and remaster your photos in entirely new ways. And the Memories feature uses advanced search technology to sort your photos into albums and movies for you to enjoy — without putting in any work.
iPhone 7 Plus Camera
Two cameras that shoot as one.
| | |
| --- | --- |
| Wide-angle and telephoto cameras | Optical zoom at 2x Digital zoom up to 10x |
iPhone 7 Plus doesn't have just one entirely new camera system — it has two. The same 12MP wide-angle camera that's on iPhone 7 works with a 12MP telephoto camera that can get even closer. That means you can get higher-quality zoom from farther away. And with an all-new depth-of-field effect (coming soon), portrait shots will look better than ever. Say hello to the world's best photo op.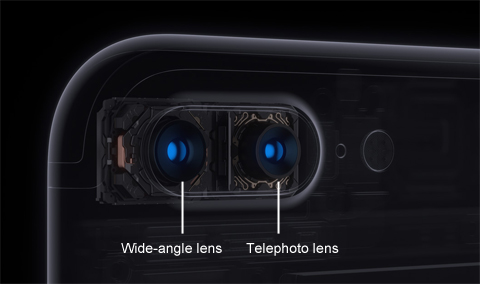 Zoom into the future.
Thanks to the dual-camera system and breakthrough ISP technology on iPhone 7 Plus, you can now get supersharp close-up photos and videos with optical zoom at 2x. And you can get even closer with improved digital zoom that lets you shoot at up to 10x for photos and 6x for video.
Each photo is the original taken with the iPhone 7 Plus telephoto camera. The advanced dual-camera system delivers higher-quality photos with optical zoom at 2x — so you can get even closer to your subject from farther away.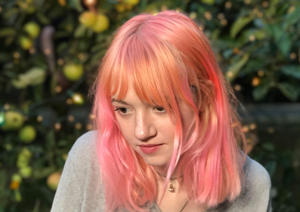 Coming soon
Depth-of-field effect.
Depth of field allows you to keep faces sharp while creating a blurred effect in the background. When you take a shot with iPhone 7 Plus, the dual-camera system uses both cameras and advanced machine learning to make your subject sharp while creating the same out-of-focus blur in the background — known as the bokeh effect — previously reserved for DSLR cameras. So no matter what's behind your subject, it's easy to create a great portrait.
Retina HD Display
The brightest, most colorful
iPhone display yet.
| | | |
| --- | --- | --- |
| Wide color gamut | brighter | 3D Touch |
Almost everything you experience with your iPhone comes to life on its display. It's where you look at the photos, messages, news, and countless other things that make up your day. The iPhone 7 display uses the same color space as the digital cinema industry, so what you see will be noticeably more brilliant and vibrant. Because we all deserve a bit more brightness in our day.
More colors. More true to life.
With a new wide color gamut, the Retina HD display is able to deliver cinema-standard colors — and the best color management in the smartphone industry. More shades of the color spectrum can be used to create an image, meaning that what you see on the screen is a truer representation of the world. So whether you're checking out photos of that perfect dress or Live Photos you took in the tropics, the colors will be so accurate, it will look like you're there.
iPhone 7
4.7″
Retina HD display with wide color and 3D Touch
1334 × 750resolution
iPhone 7 Plus
5.5″
Retina HD display with wide color and 3D Touch
1920 × 1080resolution
3D Touch. Now even handier.
When you use 3D Touch, your iPhone responds with subtle taps. So not only will you see what a press can do — you'll feel it. The new Retina HD display on iPhone 7 deeply integrates 3D Touch throughout iOS. Now you can interact with Messages, Calendar, Mail, and other apps in a more powerful, more responsive way.
A10 Fusion Chip
The most powerful chip ever in a smartphone.
| | |
| --- | --- |
| faster than iPhone 6 | Longest battery life ever in an iPhone |
iPhone 7 is supercharged by the most powerful chip ever in a smartphone. It's not just faster than any previous iPhone — it's also more efficient. That's because the A10 Fusion chip uses an all-new architecture that enables faster processing when you need it, and the ability to use even less power when you don't. And with the longest battery life ever in an iPhone, you can work at twice the speed of iPhone 6 and still enjoy more time between charges.
Faster and more efficient.
With an all-new four-core design, the A10 Fusion chip's CPU has two high-performance cores and two high-efficiency cores. The high-performance cores can run at up to 2x the speed of iPhone 6, while the high-efficiency cores are capable of running at just one-fifth the power of the high-performance cores. That means you get the best performance and efficiency when you need it.
Longest battery life ever in an iPhone.
With the A10 Fusion chip, this year you'll get more time between charges than ever before. Take advantage of up to two more hours on iPhone 7 and up to one more hour on iPhone 7 Plus than the previous generation.


Double the capacity up to 256GB.
iPhone 7 doubles the capacity of iPhone 6s across the line to 32GB, 128GB, and 256GB. So bring on the apps. Bring on the videos. iPhone 7 can take it. Literally.
Audio
iPhone. Now in stereo.
| | | | |
| --- | --- | --- | --- |
| New stereo speaker system | louder than iPhone 6s | EarPods with Lightning Connector | Introducing AirPods |
For the first time, iPhone comes with stereo speakers, delivering two times the audio output of iPhone 6s and increased dynamic range. So whether you're listening to music, watching videos, or making speakerphone calls, iPhone 7 lets you crank it up. Way, way up.

EarPods. With a Lightning connector.
iPhone 7 comes with EarPods that have a Lightning connector. But if you still want to listen through your old headphones, you can plug them in using a 3.5 mm headphone jack adapter, also included.
Available late October
Introducing AirPods.
The new AirPods offer a game-changing listening experience. Designed with a huge amount of forward-thinking technology inside a tiny device, these wireless headphones combine crystal clear sound with a new sense of freedom.
Wi-Fi and Cellular
Faster LTE with the best
worldwide roaming.
| | | |
| --- | --- | --- |
| 3x faster LTE than iPhone 6 | Up to 25 bands | Answer WhatsApp and other third-party callsConnector |
iPhone 7 features LTE Advanced, with speeds up to 450 Mbps for data downloads — over 50 percent faster than iPhone 6s and three times faster than iPhone 6. And thanks to even more LTE bands, you'll have the best worldwide roaming available in a smartphone. Happy travels.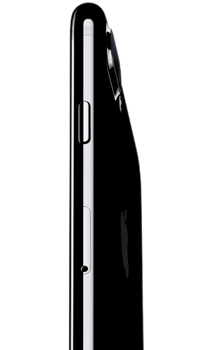 Crystal clear VoLTE and Wi-Fi calls.
iPhone 7 supports Voice over LTE — high-quality wideband calls that make your conversations sound as crisp and clear as if you were face to face. When you're unable to get cellular service, Wi-Fi calling provides an easy way to make and receive calls over a Wi-Fi connection. And now both are supported on even more carriers around the world.
Answer calls on apps like Facebook Messenger and more.
No matter where your call comes from, iPhone 7 can answer it just like a regular call. You can even access your contacts and use call waiting.
Software
iOS 10. It's why there's
nothing else like an iPhone.
AirPods
Wireless. Effortless. Magical.
Warranty:
Warranty period (parts): 90 days
Warranty period (labor): 90 days
Return policies:
Return for refund within: 30 days
Return for replacement within: 30 days